Home >
10a - Advanced PCB design techniques for cost-effective SI, PI and EMC in 2022
In this section
10a - Advanced PCB design techniques for cost-effective SI, PI and EMC in 2022
Provides 7 hours towards CPD
Included with Subscription.
Details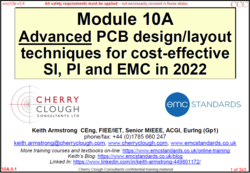 Updated for 2022
Module 10A (replaces Module 10)
This course is designed to help design engineers:-
– Reduce cost by eliminating enclosure shielding
– Reduce interference with co-located wireless datacoms (e.g. increase receiver range for GSM, GPRS, 3G, 4G, etc.)...
– Allow co-located GPS antennas...
– Use RF power devices (including isolating DC/DC)...
– Make high-speed processors / DSP function correctly (achieve good signal integrity, SI, and power integrity, PI)...
– Use the latest IC technologies (e.g. 15nm or smaller silicon processes), BGAs and 'chip scale' packages...
– Reduce time to market and compliance costs
Module is 343 slides over 171 pages
Contents:-
When should we use advanced PCB techniques?
Future trends and their implications
Guidelines, approximations, simulations, and virtual design for SI, PI and EMC
Advanced segregation (zoning) techniques
Advanced interface filtering and suppression, including BLS (board-level shielding) to tens of GHz
Advanced RF-bonding PCB Reference Planes at EMZ boundaries
Advanced PCB planes and co-locating radio/TV/datacom antennas
The totally shielded board assembly
Damping the resonances in parallel planes, plus :Virtual Ground Fences, Electromagnetic Band Gaps, High Impedance Surfaces
Advanced PCB decoupling
Buried components, especially buried capacitance decoupling
Not used in this version!
Advanced transmission lines, including differential signalling up to 32Gb/s
Microvia (HDI) board manufacturing techniques
Future developments:3-D Moulded PCBs, and Additive Manufacturing; replacing PCBs with SIF
Advanced crosstalk
Some final tips and tricks
Some useful contacts, sources, and references
Get more from EMC Standards
EMC Standards is a world-leading resource for all things EMC and EMI related. Our website is packed full of both free and paid-for content, including:
Online quiz
Webinars
Training quiz
And much more!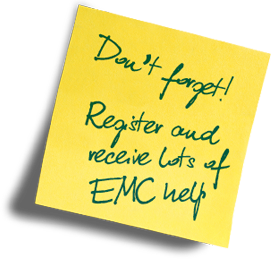 Electromagnetic Engineering (EMgineering) is the basis for proven good design practices for signal integrity (SI), power integrity (PI), and the control of EMI emissions and immunity (EMC).
Our aim is to help people learn how to more quickly and cost-effectively design and manufacture electronic equipment (products, systems, installations, etc.) to meet functional (i.e. SI/PI) specifications and conform to EMC standards, directives and other requirements.
Such equipment should benefit from reduced warranty costs and financial risks, whilst improving uptime, competitiveness and profitability.
We also cover basic good electrical safety engineering; and the Risk Management of Electromagnetic Disturbances / EMI, whether for Functional Safety or other types of risk.
Join EMC standards TODAY!