Home >
Legal & Privacy
Legal & Privacy
Refund Policy
We stand behind our products and your satisfaction with them is important to us.
If you change your mind about your purchase and you have not downloaded our product, we will happily issue you a refund upon your request.
All sales of digital goods are final. Refunds for any digital goods sold by EMC Standards. will only be considered for a refund if any of the following conditions apply:
The customer is exercising their rights under the UK consumer contracts regulations for the sale of digital goods
The digital goods were incorrectly described on www.inspiredtech.co.uk/ at the time of purchase
The digital goods are proven to be defective

Refund requests made after you have downloaded our product are handled on a case by case basis and are issued at our sole discretion. Refund requests, if any, must be made within thirty (30) days of your original purchase.

To apply for a refund, please send an email to info@emcstandards.co.uk requesting a refund, stating your name, your sales transaction number and your reason for requesting a refund.
Terms and Conditions
Use of this site is provided by EMC Standards subject to the following Terms and Conditions.
Your use of this site constitutes acceptance of these Terms and Conditions as at the date of your first use of the site.
EMC Standards reserves the right to change these Terms and Conditions from time to time by posting changes online. Your continued use of this site after changes are posted constitutes your acceptance of this agreement as modified.
You agree to use this site only for lawful purposes, and in a manner which does not infringe the rights, or restrict, or inhibit the use and enjoyment of the site by any third party.
This site and the information, names, images, pictures, logos regarding or relating to EMC Standards are provided "as is" without any representation or endorsement made and without warranty of any kind whether express or implied. In no event will EMC Standards be liable for any damages including, without limitation, indirect or consequential damages, or any damages whatsoever arising from the use or in connection with such use or loss of use of the site, whether in contract or in negligence. Whilst EMC Standards endeavours to ensure the information contained in this site is accurate, it does not warrant that it is error free.
EMC Standards does not warrant that the functions contained in this site will be uninterrupted or error free, that defects will be corrected, or that this site or the server that makes it available are free of viruses or bugs or represents the full functionality, and reliability of the materials.

Copyright restrictions

Commercial use or publication of all or any item displayed is strictly prohibited without prior authorisation from EMC Standards. Nothing contained herein shall be construed as conferring any licence by EMC Standards to use any item displayed.

Documents may be copied for personal use only on the condition that copyright and source indications are also copied, no modifications are made and the document is copied entirely. However, some documents and photos have been published on this site with the permission of the relevant copyright owners (who are not EMC Standards). All rights are reserved on these documents and permission to copy them must be requested from the copyright owners (the sources are indicated within these documents/photographs).

This site may contain links to other sites, please be aware that EMC Standards is not responsible for the privacy practices of such other sites and takes no responsibility for their content or availability.
If there is any conflict between these Terms and Conditions and rules and/or specific terms of use appearing on this site relating to specific material then the latter shall prevail.
These terms and conditions shall be governed and construed in accordance with the laws of England and Wales. Any disputes shall be subject to the exclusive jurisdiction of the Courts of England and Wales.
If these Terms and Conditions are not accepted in full, the use of this site must be terminated immediately.
Privacy
We are committed to protecting your privacy. We will only use the information that we collect about you lawfully (in accordance with the Data Protection Act 1998).
We will not email you in the future unless you have given us your consent.
The information we collect will only be used by EMC Standards. Every time we email you we will give you the chance to refuse any such emails in the future.
The type of information we will collect about you includes:
This information is collected when you enter your name, address and/or email address on the site. We will never collect sensitive information about you without your explicit consent.
We will endeavour to keep the information we hold about you up to date. You can check the information that we hold about you by emailing us at the email address provided below. If there are any inaccuracies please let us know and we will correct it promptly.
The personal information which we hold will be held securely in accordance with our internal security policy and the law.
If we intend to transfer your information outside the EEA (European Economic Area) we will always obtain your consent first.
We may use technology such as a "cookie" to monitor users of this site such as which areas of the site you use most or least often and how often you use the website. A "cookie" is a piece of data stored on the user's hard drive containing information about the user, it is not linked to any of your personal information on our site. It may be possible for you to modify your browser to prevent this happening and you may still be able to use our site.
If you have any questions/comments about privacy, you should email us at EMC Standards.
Get more from EMC Standards
EMC Standards is a world-leading resource for all things EMC and EMI related. Our website is packed full of both free and paid-for content, including:
Online quiz
Webinars
Training quiz
And much more!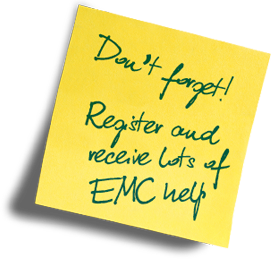 Electromagnetic Engineering (EMgineering) is the basis for proven good design practices for signal integrity (SI), power integrity (PI), and the control of EMI emissions and immunity (EMC).
Our aim is to help people learn how to more quickly and cost-effectively design and manufacture electronic equipment (products, systems, installations, etc.) to meet functional (i.e. SI/PI) specifications and conform to EMC standards, directives and other requirements.
Such equipment should benefit from reduced warranty costs and financial risks, whilst improving uptime, competitiveness and profitability.
We also cover basic good electrical safety engineering; and the Risk Management of Electromagnetic Disturbances / EMI, whether for Functional Safety or other types of risk.
Join EMC standards TODAY!