Home >
4 - Shielding for EMC
In this section
4 - Shielding for EMC
Provides 2 hours towards CPD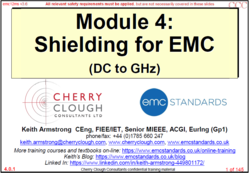 This module is designed to help engineers what is shielding for EMC and how best to implement it. It also talks about the case for ensuring that the issue is addressed as early in the products assembly process as possible.
The module is 88 slides over 44 pages
Contents:-
1. Economic issues for shielding
2. Shielding with metal plates (image planes)
3. How shielded enclosures work
4. DC and low frequency shielding
5. The problems caused by apertures
6. The problems caused by box resonances
7. The problems caused by conductor penetrations
8. Shields in the near field of a source
9. RF-bonding with multiple metal bonds or conductive gaskets
10. Waveguides-below-cutoff
11. Shielding of displays
12. Shielding of ventilation
13. Shielding of plastic enclosures
14. Preventing corrosion at shielding joints
15. D-I-Y testing SE before its hardware or software are ready
16. Some free SE calculators and useful references
Get more from EMC Standards
EMC Standards is a world-leading resource for all things EMC and EMI related. Our website is packed full of both free and paid-for content, including:
Online quiz
Webinars
Training quiz
And much more!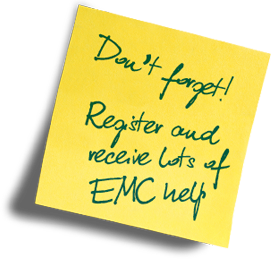 Electromagnetic Engineering (EMgineering) is the basis for proven good design practices for signal integrity (SI), power integrity (PI), and the control of EMI emissions and immunity (EMC).
Our aim is to help people learn how to more quickly and cost-effectively design and manufacture electronic equipment (products, systems, installations, etc.) to meet functional (i.e. SI/PI) specifications and conform to EMC standards, directives and other requirements.
Such equipment should benefit from reduced warranty costs and financial risks, whilst improving uptime, competitiveness and profitability.
We also cover basic good electrical safety engineering; and the Risk Management of Electromagnetic Disturbances / EMI, whether for Functional Safety or other types of risk.
Join EMC standards TODAY!