Home >
18 - Cost effective uses of close field probing
In this section
18 - Cost effective uses of close field probing
Provides 3 hours towards CPD
Included with Subscription.
Details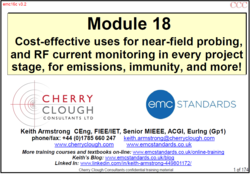 Updated for August 2020!
Cost-effective uses for near-field probing
in every project stage; for emissions, immunity, and more
This module has been completely revised for 2020 and has almost doubled in size.
This module is designed to help people understand Close-field EMC probing (often called near field probing). This is a useful qualitative method to quickly identify emissions problems. It can quickly reveal weak points for immunity, when used with transient and/or radio-frequency (RF) generators and it can help design PCBs, shielding and much else.
Module is 174 slides over 87 pages
Contents:-
Near-Field Probing
Introduction to near-fields and near-field probing (= close-field probing)
Making our own near-field probes
Buying near-field probes
Affordable spectrum analyzers: traditional types and new 'real-time' types
Safety: the most important issue !
Using near-field probes to check emissions
Avoiding overload and intermodulation, including by out-of-band signals
Using near-field probes to check immunity
Some more uses for near-field probing
Using 'Pin Probes' to check emissions or immunity
RF Current Monitor Probing
Making current monitor probes
Buying current monitor probes
Using current monitor probes
Calibrating current monitor probes
Predicting radiated emissions on full-compliance tests
Quick and cost-effective uses for probing throughout the lifecycle
Some resources on probing, and on 'pre-compliance' testing
Get more from EMC Standards
EMC Standards is a world-leading resource for all things EMC and EMI related. Our website is packed full of both free and paid-for content, including:
Online quiz
Webinars
Training quiz
And much more!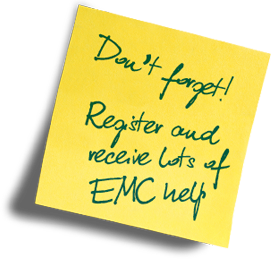 Electromagnetic Engineering (EMgineering) is the basis for proven good design practices for signal integrity (SI), power integrity (PI), and the control of EMI emissions and immunity (EMC).
Our aim is to help people learn how to more quickly and cost-effectively design and manufacture electronic equipment (products, systems, installations, etc.) to meet functional (i.e. SI/PI) specifications and conform to EMC standards, directives and other requirements.
Such equipment should benefit from reduced warranty costs and financial risks, whilst improving uptime, competitiveness and profitability.
We also cover basic good electrical safety engineering; and the Risk Management of Electromagnetic Disturbances / EMI, whether for Functional Safety or other types of risk.
Join EMC standards TODAY!