Home >
Opportunities in the Risk Management of EMC
In this section
Opportunities in the Risk Management of EMC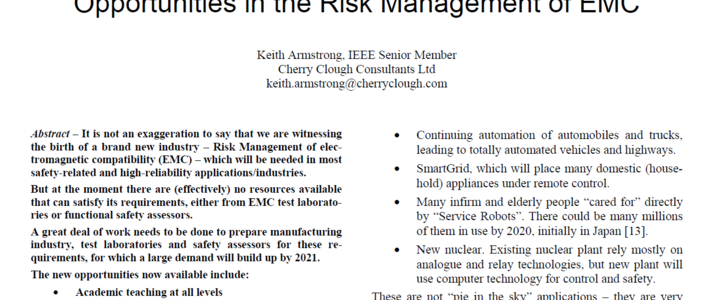 Abstract
It is not an exaggeration to say that we are witnessing the birth of a brand new industry – Risk Management of electromagnetic compatibility (EMC) – which will be needed in most safety-related and high-reliability applications/industries.
But at the moment there are (effectively) no resources available that can satisfy its requirements, either from EMC test laboratories or functional safety assessors.
A great deal of work needs to be done to prepare manufacturing industry, test laboratories and safety assessors for these requirements,for which a large demand will build up by 2021.
The new opportunities now available include:

• Academic teaching at all levels
• Academic research
• Vocational training courses
• Computer-aided simulation
• Test methods and specialized test equipment
• Verification/validation techniques other than testing
• Development of policies and procedures
• Safety Assessor services
• Accreditation services

This paper briefly introduces the rapidly growing need for the
above, and discusses each of these opportunities in turn.
Get more from EMC Standards
EMC Standards is a world-leading resource for all things EMC and EMI related. Our website is packed full of both free and paid-for content, including:
Online quiz
Webinars
Training quiz
And much more!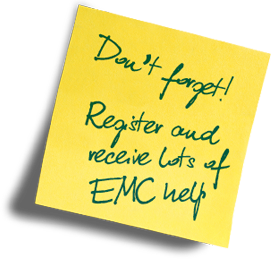 Electromagnetic Engineering (EMgineering) is the basis for proven good design practices for signal integrity (SI), power integrity (PI), and the control of EMI emissions and immunity (EMC).
Our aim is to help people learn how to more quickly and cost-effectively design and manufacture electronic equipment (products, systems, installations, etc.) to meet functional (i.e. SI/PI) specifications and conform to EMC standards, directives and other requirements.
Such equipment should benefit from reduced warranty costs and financial risks, whilst improving uptime, competitiveness and profitability.
We also cover basic good electrical safety engineering; and the Risk Management of Electromagnetic Disturbances / EMI, whether for Functional Safety or other types of risk.
Join EMC standards TODAY!