Home >
Developing Immunity Testing to Cover Intermodulation
In this section
Developing Immunity Testing to Cover Intermodulation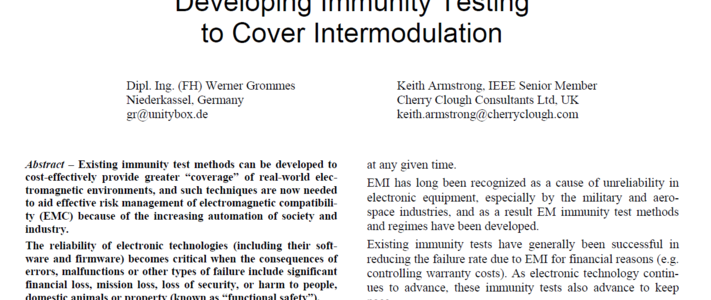 Abstract
Existing immunity test methods can be developed to cost-effectively provide greater "coverage" of real-world electromagnetic environments, and such techniques are now needed to aid effective risk management of electromagnetic compatibility
(EMC) because of the increasing automation of society and industry. The reliability of electronic technologies (including their software and firmware) becomes critical when the consequences of errors, malfunctions or other types of failure include significant financial loss, mission loss, loss of security, or harm to people, domestic animals or property (known as "functional safety").
Electromagnetic interference (EMI) can be a cause of unreliability in all electronic technologies, so EMC must be taken into account when the risks caused by malfunctioning electronics need to be controlled. Unfortunately, it is not practicable to achieve the levels of confidence required for critical systems, over their entire lifetime, by EMC testing alone – no matter by how much the test level is increased above the maximum levels obtaining in the environment. A variety of additional verification and validation techniques are required. The subject of this paper is developing existing radiated and conducted radio-frequency immunity test methods to cover real-life possibilities for intermodulation, that at the time of writing
are ignored by almost all standardized test methods.
Get more from EMC Standards
EMC Standards is a world-leading resource for all things EMC and EMI related. Our website is packed full of both free and paid-for content, including:
Online quiz
Webinars
Training quiz
And much more!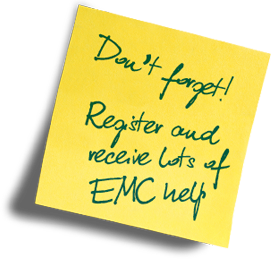 Electromagnetic Engineering (EMgineering) is the basis for proven good design practices for signal integrity (SI), power integrity (PI), and the control of EMI emissions and immunity (EMC).
Our aim is to help people learn how to more quickly and cost-effectively design and manufacture electronic equipment (products, systems, installations, etc.) to meet functional (i.e. SI/PI) specifications and conform to EMC standards, directives and other requirements.
Such equipment should benefit from reduced warranty costs and financial risks, whilst improving uptime, competitiveness and profitability.
We also cover basic good electrical safety engineering; and the Risk Management of Electromagnetic Disturbances / EMI, whether for Functional Safety or other types of risk.
Join EMC standards TODAY!